Stress Management: Stay Calm Under Pressure!
Tools to find your balance and develop resilience
Everyday working life can be challenging. How can you cope with this pressure and stay healthy in an environment full of packed agendas and to-do-lists? In this interactive course you will learn how to decrease your stress and increase your well-being in the workplace by learning new strategies and exercises. Finding a good balance will help you to be more motivated, relaxed, efficient and resilient.
Content
What is stress?
Where does it come from?
The physical, psychological and emotional effects of stress.
Finding balance
Discovering your mindset regarding stress.
Examining how you deal with stress and whether your strategies are effective.
Bringing work and life into balance.
Finding your own best practice in dealing with stressful situations.
Techniques to use when you are under pressure at work
Strategies for dealing with stress in high – pressure situations.
How to use well researched, simple coping tools to deal with stress effectively.
Quick regeneration with relaxation techniques.
Using creative methods and techniques to increase resilience.
Developing resilience through mindfulness
The basics of mindfulness.
Using mindfulness to improve self-awareness, enhance self-confidence and optimism.
Practices which can be integrated into your daily routine.
Online Learning Platform
Once you have registered, you will be able to access your online learning platform, including extra materials for consolidating what you have learned.
Benefits
This interactive course will help you to:
Build resilience in times of rapid change.
Understand how stress arises and how to manage it.
Learn and practice good coping skills.
Establish simple techniques for stress reduction.
Understand the potential upside of stress and how to use stress for positive outcomes.
Methods
The training will include short input sessions outlining research and theory, individual, pair and group work, discussion, emotional regulation practice, attention training, mindfulness practice and relaxation techniques.
Who should attend
This seminar is for those who would like to learn new strategies and practices to cope more effectively with stress, increase their well-being in the workplace and develop more resilience. Anyone who wants to improve his work-life-balance.
Further recommendations for "Stress Management: Stay Calm Under Pressure!"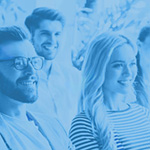 Statements from participants
"Our presenter was excellent, allowing enough discussion, but also keeping on time. The content and structure of the course was very good."
Dr. Karl Pioch
KWS SAAT SE, Einbeck
"I especially liked the physical exercises as well as the definition and handling of stress. The most important thing I can take away from this course is the knowledge of how I can recover from stress in a short period of time. Excellent trainer!"
Taylan Uenal
Hankook Tire Co., Hannover
Customised for your needs
On-site for multiple employees
Save time and travelling expenses
Questions about a booking?
Training in English
2 days
limited number of participants
Auch als deutschsprachiges Training buchbar:
Erfolgreiches Stressmanagement
22.-23.08.19

1. day: 9:00 AM - 5:00 PM
2. day: 9:00 AM - 4:00 PM

Participation fee
€ 1.440,- excl. VAT
€ 1.713,60 incl. VAT
The stated participation fee includes a group lunch per full seminar day, refreshments during breaks and extensive course handouts. The participant must settle accommodation costs directly with the hotel. Regarding the booking of the hotel, you will find a reservation form in your online learning platform.
Sufficient places are still free.
Don´t wait too long to book.
Fully booked.
✓
Training is guaranteed to take place
Secure knowledge transfer with transfer coaching!
Book 2 hours of individual coaching with your trainer.
€ 390,- excl. VAT
€ 464,10 incl. VAT
Take advantage of our attractive discount by booking your seminar + transfer coaching at the same time. You will save 10% when you book transfer coaching!
The Haufe Akademie
High practical relevance
Top trainers
180.000 participants per year
Generator of success since 1978