Rhetoric is a term we are all familiar with and – whether you want to say something in your mother tongue or in a foreign language – it is necessary for effective communication. This is particularly true in the globalised world we live and work in. At the same time, it is a skill you need to keep working on to develop.
What is rhetoric and when do we use it?
Why is successful rhetoric essential for modern business communication? Rhetoric is quite simply effective written and oral communication which places your audience at the centre of the act of communication, a must in business interactions. Rhetoric also has a clear persuasive function and knowing how to persuade is essential in achieving goals. Rhetoric, although the word itself stirs up images of complex techniques familiar to the ancient Greeks, is used every time we use language. So, all communication is rhetorical. In fact, a modern definition of rhetoric is simply the intentional use of language to influence an audience, with an emphasis on "intentional". This means that successful rhetoric can be learned and applied in both formal and informal settings to increase persuasive impact. This of course, is more challenging in a foreign language. However, with the right insights and practice, the basics can be learned relatively quickly and easily.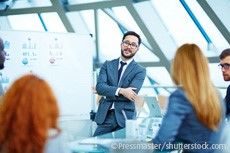 Our seminar recommendation
Persuasion and Influence: Speak Up and Convince!
How convincing are your ideas? When you want to persuade, can you successfully adapt to your audience? Do you know how to back-up your ideas with reasons that others find convincing, using effective rhetorical devices? Effective persuasion is the ability to influence the behaviour of others. It is a skill that is extremely important in business and personal relationships. In this hands-on seminar you will sustainably optimise your personal linguistic style and gain in persuasiveness and influence.
training Persuasion and Influence: Speak Up and Convince!
Useful tips for successful rhetoric
Although there are many techniques involved becoming a rhetorical expert, there are some important ones which can be easily learned and quickly applied. Authenticity combined with technique is the key.
Here are just a few tips which may help you to become an effective communicator:
Be aware of the tone, style and purpose of communication in various contexts.
Use the right voice power and be confident of your own style for more effective verbal and nonverbal communication. It is like Cicero, the Roman orator said, "Without good delivery, the best speaker cannot be of any account at all."
Use effective opening and closing statements of purpose for meetings, presentations and negotiations.
With impact techniques like rhetorical questions, contrasts and opposites you can make your speech more vibrant and persuasive. These techniques are not only useful for presentations or formal platform speeches but can be used in less formal conversational interactions.
Be aware of your body language and its effect on audience perception.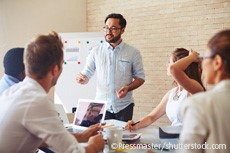 Our seminar recommendation
Convincing Personality, Cooperation and Communication
The role of networking, social English and presenting yourself effectively cannot be overestimated in international business today. The need of being a 'relationship manager' within the company as well as to acquire new clients and achieve client retention is the key to your business success. In this seminar, you will strengthen your interpersonal skills and take advantage of your full potential in order to become more successful in your job.
training Convincing Personality, Cooperation and Communication
There are also some other impact techniques for establishing rapport or relationship with other people: Can you lead someone to say yes on the basis of good arguments? This can be achieved by knowing something about basic modern psychology and the language behind the powers of persuasion and negotiation.
Successful rhetoric is a key component for successful communication and learning the basics is relatively simple. The knowledge and use of simple techniques can make a big difference to you and your ability to influence others positively.