Data Awareness - A new mindset
An holistic overview of current data technologies
The aim of the Data Awareness Training from Haufe Akademie and StackFuel is to provide a holistic overview of current data technologies. For this purpose, a fundamental understanding of the entire data processing process for data analysis and complex data models is facilitated so that you can communicate professionally with data experts. In addition, you will learn to evaluate data analyses and projects from the specialist domain and to assess data visualizations.
Content
Chapter 1: Big Data
Data-based decision making.
Steps of a data analysis.
Best practices in structuring of data.
Chapter 2: Datafication
Understanding of data infrastructures.
Data cleaning in complex projects.
How is data processing structured?
Best Practices von data visualizations.
Chapter 3: Artificial Intelligence
Application cases of artificial intelligence.
Understanding the algorithms of supervised and unsupervised Learning (Machine Learning).
Chapter 4: Internet of Things and Industry 4.0
Comprehending the training of AI algorithms.
Understanding the possibilities of sensors.
Data-based product development through A/B tests.
Predictive maintenance of facilities with the help of machine learning algorithms.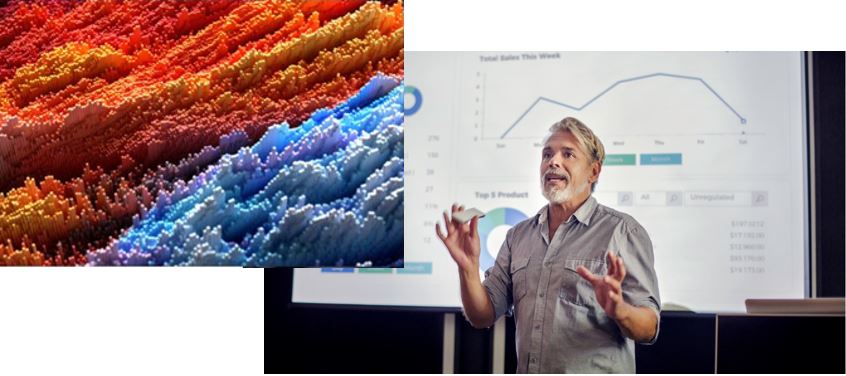 Personal learning environment
In your online learning environment, you will find the learning units, work support, additional products and access to the Data Lab from the start date on. Every week you will be provided with new materials, which you can work on independently. Throughout the entire training period you will be accompanied online and have the opportunity to exchange information with other course participants and training instructors on the respective learning units.
Benefits
Overview of current data technologies.
Professional domain communication with colleagues.
Data-based decision making.
Increase of data awareness in your company.

Methods
The online training consists of instructional videos, interviews, articles and interactive knowledge quizzes.
After logging into the learning environment, the online training offers you a mixture of videos, reading material and business scenarios that will sharpen your knowledge.
These components are made available online via a learning environment. Interactive exercises enable you to work on your own in your learning environment and gain a practical impression of what it means to work with data. This will provide you with the data competence that you really need in a modern, digital working environment. Course participants work on the content independently and can determine the time and place for this themselves.
Participants
The course is suitable for anyone who wants to better understand the subject of data analytics, perform simple analyses on their own, or work closely with data experts. You should have a basic interest in data-related topics and modern data processing. No previous knowledge is required for the Data Awareness Course.
Further recommendations for "Data Awareness - A new mindset"
Customised for your needs
On-site for multiple employees
Save time and travelling expenses
Questions about a booking?
Training in English | Online
4 weeks (2-3 h/week)
This training is a on-the-job online training with a workload of approx. 2-3 hours per week for 4 weeks. The training takes place in the browser, without additional software. The access data will be sent appr. one week before the start of the training.
Auch als deutschprachiges Online-Training buchbar: Data Awareness
To this product
Training is guaranteed to take place
The next booking ensures this course will take place
Participation fee
€ 439,- excl. VAT
€ 522,41 incl. VAT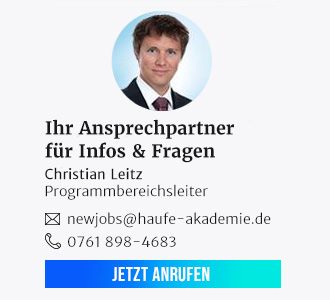 Termine anzeigen