Data Analyst in Python
Python basics, data analysis and visualizations
The goal of the Data Analyst Training from Haufe Akademie and StackFuel is the application-oriented instruction of the free programming language Python for the preparation, processing and visualization of company data. This means that the data analyst plays a central role in the context of digitization. He or she is the link between the specialist departments and the heads of the departments, who increasingly make data-driven decisions.
Content
Modul 1: Foundations of Python
Learn the essentials of Python in the context of data analysis.
Deepen programming knowledge in data-based business scenarios.
Develop programs for automated data analysis.
Modul 2: Data Analyses with Python
Read and process data with the Python module pandas.
Include external data sources in the analysis.
Apply the foundations of statistics to business data.
Data visualizations with pandas, matplotlib and other Python modules.
Implementation of a data pipeline for various industry data sets.
Writing increasingly complex analysis programs.
Perform independent data analyses with an industrial data set.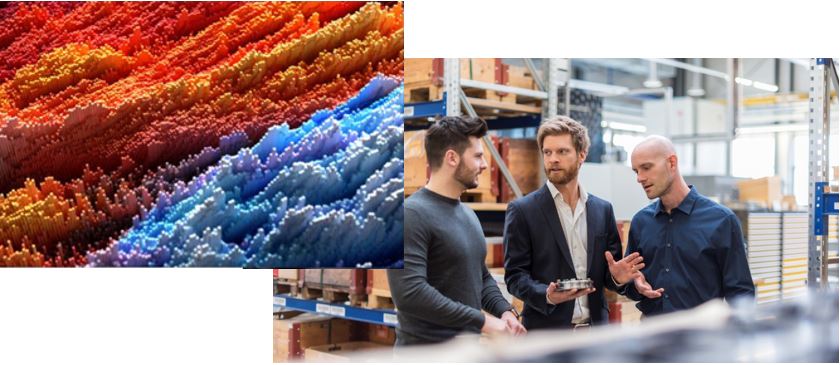 Personal learning environment
In your online learning environment, you will find the learning units, work support, additional products and access to the Data Lab from the start date on. Every week you will be provided with new materials, which you can work on independently. Throughout the entire training period you will be accompanied online and have the opportunity to exchange information with other course participants and training instructors on the respective learning units.
Benefits
Assess and use company data as a productive factor.
Implement complex data analyses in the specialist domain.
Increase competitiveness with data-driven decisions.

Methods
After logging into the learning environment, the online training offers you a mixture of videos, reading material and business scenarios that will sharpen your knowledge. The interactive exercises allow you to work on your own in your learning environment and gain a practical impression of what it means to work with data. During the course, course participants are accompanied throughout the entire period. The online training consists of interactive programming exercises, videos, and interactive knowledge quizzes. Participants work on the content independently and can choose the time and place.
This training is a on-the-job online training with a workload of approx. 6 hours per week for 15 weeks. The training takes place in the browser, without additional software. The access data will be sent approx. one week before the start of the training.
Participants
Employees who want to specialize in the field of data analytics or who want to expand their existing knowledge of data analysis. Data analyst training is important for departments that are increasingly working data-driven and are making data-based decisions.
Further recommendations for "Data Analyst in Python"
Digital learning for individuals
more
Auch als deutschsprachiges Online-Training buchbar: Data Analyst
To this product
Exclusively for your employees
more
Customised for your needs
Online event for multiple employees
Save time and travelling expenses
Auch als deutschsprachiges Online-Training buchbar: Data Analyst
To this product
Dauer
15 weeks (6 h/week)
Participation fee
€ 3.990,- excl. VAT
€ 4.748,10 incl. VAT
Training is guaranteed to take place
The next booking ensures this course will take place
Haufe Akademie In-house
Guarantee for your success: Last year alone, 38,000 participants in 3,900 in-house trainings relied on the Haufe Akademie!